On her 70th birthday, Friends of Slovakia's Board Member Cecilia Rokusek, President and CEO of the National Czech & Slovak Museum & Library in Cedar Rapids, IA, was recognized for her excellent work and personal dedication, including as the Honorary Consul in Florida, by the Minister of Foreign Affairs of the Slovak Republic Miroslav Wlachovský on June 27, 2023.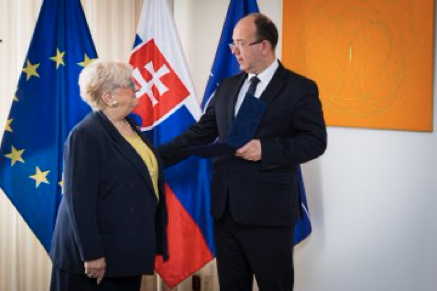 She previously received the prestigious 2022 Gratias Agit Award at the Ministry of Foreign Affairs of the Czech Republic on October 19, 2022. Dr. Rakusek is one of eight recipients and the only recipient from the United States to receive this high honor in 2022. Hear directly from Cecilia about what receiving this prestigious honor means to her here.  
Also, in 2018, Cecilia was among the first recipients of the Woodrow Wilson Award in a ceremony on December 12 at the embassy of the Slovak Republic in Washington, D.C. The award, which includes a specially cast bronze medal, was presented to Rokusek and the other inaugural recipients by the Slovak Ambassador to the United States, Ivan Korčok. The Woodrow Wilson Award is a collaborative project of the Embassy of the Slovak Republic to the United States and the Embassy of the United States to the Slovak Republic, each making the awards within their respective countries. The awards are given to organizations or persons significantly contributing to developing Slovak-American relations. On October 10 in Bratislava, the US Ambassador to Slovakia, Adam Sterling, presented Woodrow Wilson awards to several Slovak recipients.